RCBJ-Audible (Listen For Free)
Camp Venture And St. Thomas Aquinas College Reach Sale/Leaseback Agreement Of Venture Center
Camp Venture sold its campus at 230 Rte. 340 in Sparkill to St. Thomas Aquinas College (STAC) last week.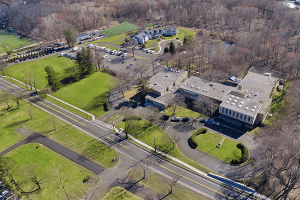 The Venture Center, formerly the Rosary Academy High School for Girls, is home to the Venture Center Day Habilitation Programs, which offers programs and family-like care for people of all ages with intellectual and other developmental disabilities. Camp Venture services all five towns in Rockland County, and has provided assistance to more than 2,000 youth and adults since its inception.
As part of the sale agreement, Camp Venture will continue its operations on site, for up to seven years, under a lease with STAC.  According to Camp Venture's CEO, Matthew Shelley, "We appreciate the opportunity to continue to utilize this space and build upon our long friendship with STAC.  Camp Venture plans to maintain our day programs, staffing and other operations at the site, during the multi-year period, leasing all necessary space from STAC.  During this leasing period, we will evaluate other sites across Rockland County to which we can relocate our beloved programs into more modern space, and become better integrated in the community".
STAC will ultimately use the site to expand services for the growing need of this four-year college located on lands adjacent to and across the street from the Venture Center.
Paul Adler of Rand Commercial was the broker on both sides of the deal.
---
Sloatsburg Gateway Park Project Breaks Ground
The Sloatsburg Gateway Park project, which received a $249,000 grant under the United States Department of Agriculture's (USDA) Rural Business Development Grant Program, has broken ground. The federal funding will be used to rehabilitate a vacant parking lot into a modern-rustic plaza at the doorstep of the Sloatsburg Train Station.
The park is designed to stimulate business along the Main Street/Route 17 corridor and help to propel the village's ongoing revitalization efforts.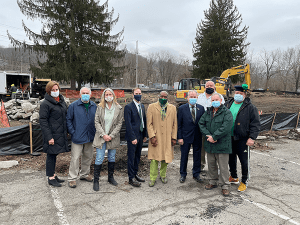 "Today is a great day for Rockland County as we celebrate the highly anticipated groundbreaking for the Sloatsburg Gateway Park," said County Executive Ed Day. "This project, initiated by my Economic Development Director Jeremy L. Schulman when he served as the President and CEO of the Rockland Economic Development Corporation (REDC), was a true collaboration between the County, former Mayor Carl Wright, the Sloatsburg Board of Trustees, the Sloatsburg Chamber of Commerce, and the Sloatsburg Downtown Revitalization Committee."
"Working together and finding innovative ways to move forward on projects like Gateway Park and our concurrent NYS DOT Complete Streets Program, which is progressing, will benefit small businesses, increase local investment and create jobs in the county," said Sloatsburg Mayor Peter Akey.  "It is a credit to everyone's hard work that we have reached this juncture on an initiative valued at almost $400,000. We are looking forward to working with Precise Enterprises II of Wallkill, NY which was awarded the contract bid, and Related Companies which provided a financial match, to help us reach the finish line on an impactful project for the village, county and region."
The USDA Rural Business Development Grant is designed to fund projects that benefit small and emerging businesses in rural areas. The Sloatsburg Gateway Park project will be an integral component of the village's transit-oriented development (TOD) redevelopment plans and will complement the Valley Rock Inn project in fashioning a one-of-a-kind tourist and corporate destination. The plan calls for the development of a vacant parking lot adjacent to the Village's Metro North/NJ Transit Train Station and will turn it into a passive park, increasing public parking significantly, and creating pathways and interpretive signage that will direct visitors to Sloatsburg's businesses.
The park will include decorative lighting, landscaping and amenities for residents, visitors, and tourists.  The Sloatsburg Train Station is located on Mill Street immediately opposite of the property and readies availability of commuter parking which will encourage the use of public transportation and invite visitors to the village's downtown business district. A ribbon cutting is planned for early summer.
---
Camp Blue Rill Property Sells For $8 Million
The shuttered Camp Blue Rill property in Airmont has been sold to sold to Blue Rill Estates, LLC for $8 million. Blue Rill Estates LLC is based in Monsey, NY.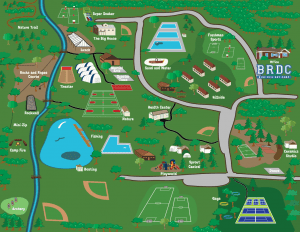 Originally purchased in 2005 by Playmakers LLC for $3.7 million, the 16.5-acre property at 434-444 Saddle River Road in Airmont, Town of Ramapo, has operated as Blue Rill Day Camp until March 2019.
Blue Rill Day Camp, according to its previous website, had been a camp since 1951, with three heated pools, a fishing/boating pond, multiple art rooms, a full adventure course with a rock wall and zip lines, a go kart track, an archery range, a theatre, a ceramics studio, two cooking rooms, along with multiple tennis/basketball courts, baseball/soccer fields, and other facilities. The camp last served campers in 2019.