RCBJ-Audible (Listen For Free)
100 Dutch Hill Sells For $9 Million
REAL ESTATE NEWS

The Class B office building at 100 Dutch Hill Road in Orangeburg has been sold for $9 million to Dutch Hill Equities LLC, based in Monsey.
The seller was Dutch Hill Partners LLC, which paid $3 million for the 47,000 square-foot building in 2009.
Gabe Alexander, a Dutch Hill Partners principal, is the developer of Pavion, a rental housing development in Nyack. In 2019, Alexander Property Holdings bought the Spring Valley Marketplace for $59.3 million.
Formerly owned by Key Bank, and previously the headquarters of Union State Bank (USB), the 35-year-old building is configured for multi-tenant office use. There are 3,200-square feet of leasable space available, according to LOOPNET.
---
Nice-Pak Gets EPA Approval For Disinfecting Wipes
Nice-Pak, the Orangeburg-based pioneer and leading producer of wet wipes for consumer markets, announced that its surface disinfecting wipes, sold under Nice `N CLEAN®, GRIME BOSS®, and private label brands, received approval from the U.S. Environmental Protection Agency (EPA) for efficacy claims against SARS-CoV-2, the virus that causes COVID-19.
"As the fight against the spread of COVID-19 persists, access to effective and convenient cleaning and disinfecting solutions remains critical," said Jim Dalton, Vice President and Head of Research & Development, Nice-Pak. "The EPA approval of our disinfecting wipes provides people with another proven option for protection against the SARS-CoV-2 virus."
A pioneer of wet wipes for over 60 years, Nice-Pak specializes in producing high-demand essential cleaning wipes including disinfecting wipes, antibacterial hand wipes, baby and personal hygiene wipes. Nice-Pak recently introduced new packaging and branding for its Nice `N CLEAN® product line, which includes surface disinfecting wipes that kill 99.9% of viruses* and bacteria,** including SARS-CoV-2.
"Nice-Pak's EPA-approved Nice `N CLEAN® disinfecting wipes are available in stores beginning this month," said Michael Lyons, Vice President, Business Development and General Manager, Brands, Nice-Pak. "The launch of our surface disinfecting wipes complements our line-up of sustainable plant-based products which includes hand, baby and flushable wipes."
This timing is crucial with the winter season in full force and people spending more time indoors. As COVID-19 infection rates surge nationwide, it is vitally important to continue disinfecting practices and safety measures, as the Centers for Disease Control and Prevention (CDC) recommends.
---
The Envelop Please…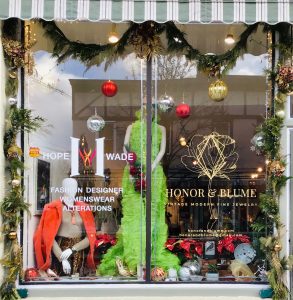 Nyack Merchants United challenged local businesses to compete for honors — and prizes — for the best storefront displays, inviting decoration aficionados to vote for their favorites on Facebook. And the winners are:
First Place Winner: Knitting Nation, 30 North Broadway
Runner Up: The Co-Op, Hope Wade Designs/Honor & Blume/ Sally Rothchild Pottery. 23 North Broadway
"A contest is always great fun – and a great way to support local shops," said Roger Cohen, President, Nyack Chamber of Commerce. "The winners get valuable prizes to help sustain them, including free advertising, promotional photography and membership in the Nyack Chamber."
Nyack's Winter Wanderland includes special shopping and dining experiences and festive lights — with a backdrop of breathtaking views and access to the Hudson River.
---