Jon & Kat Show Livens Up The Mix On Rockland's Broadcast Staple
By Tina Traster
WRCR AM 1700, Rockland's inveterate stable of established broadcast voices, is more "woke" these days thanks to a new bi-weekly show featuring a pair of millennials. The Jon & Kat Show, which airs every Tuesday and Thursday from 11 am-12:30 pm, adds a youthful perspective to a broadcast station that typically hues to listeners above the age of 40.
The duo – students of journalism – are hoping to attract younger listeners and engage older ones with a show that will cover issues including what school might look like in the pandemic era, mental health, employment for millennials, and other free-ranging topics prompted spontaneously or by call-ins.
"We really trying to have broad appeal," said Kathryn (Kat) Cambrea, a junior at St. Thomas Aquinas College (STAC) who came to intern at WRCR earlier this summer. While learning all facets of radio broadcasting, Cambrea met Jonathan Calixte (Jon), a former WRCR intern, STAC graduate, and recent masters recipient in journalism from Hofstra University. Calixte had long yearned for a broadcast show. The two bonded and decided to create this pilot show with an emphasis on showcasing people who've had a positive influence on their lives.
Both Cambrea and Calixte say they are concerned about the dilution of news, with too much social media parading as truth.
"Anyone can be a reporter," said Calixte. "Social media has saturated the media, spreading too much information that's untruthful."
The pair say they're on a mission to put forward human interest stories that are true, accurate and newsworthy.
"If we can do this – two young journalists – we can make a change," said Cambrea.
The radio duo, both Rockland County residents, recognize radio is not the medium of choice for their generation.
"Radio is not a medium this generation values," said Cambrea. Millennials and the generations behind them have grown up controlling their universe on ipods and cell phones. Tuning in to planned agendas is not really in their wheelhouse.
WRCR and its new hosts hope to break down this barrier.
"It is exciting to see the social media generation interested in traditional media," said Dr. Alexander Medakovich, President of Alexander Broadcasting, Inc. Jon and Kat's enthusiasm for AM radio and its unique possibilities is infectious and comes through on the air loud and clear."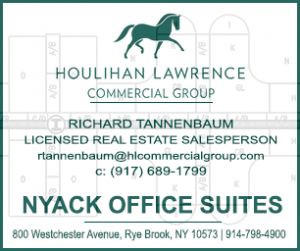 Most of WRCR's listeners are established home owners who are tuning in to the morning show that highlights local officials and voices who are talking about what's happening in the community, said Kerry Potter, the station's business manager. (RCBJ is on the station every Monday at 9:15 during The Morning Show With Steve and Jeff.) "Young voices are really refreshing," Potter said. "We expect it will bring younger listeners but it's also nice for an older audience to hear a younger perspective."
WRCR AM 1700 is Rockland County's only community-minded AM radio station, which also streams live on the internet via its website, www.WRCR.com and various apps. In 2017, WRCR, had operated for 52 years as a commercial AM radio station before it switched to a webcast format after losing its tower. At that time, the station was broadcasting an adult contemporary format with weekday news talk shows from the station at Palisades Credit Union Park. The station pulled the plug on broadcasting on AM 1700 after their tower landlord in Nanuet unexpectedly cut off the utilities. In 2019, the station returned to the airwaves with a new tower.
"I'm so proud of Katherine and Jonathan for putting their communication skills and training to use to serve the community in a timely and creative manner," said Professor Elaine Winship, Communication Arts Department, STAC.