Westrock Co-founder Says Giving Back Gave Him A New Lease On Life
By Tina Traster
Two of Rockland County's beloved entities – Jawonio and Westrock Pool & Spa – are working together this year to raise a chunk of change for Jawonio's $18 million capital campaign to ready the facility for the 21st century.
Westrock Pool & Spa, co-owned by Andy Bari and Robert Ball, have set out to raise $50,000 in 2019 for the nonprofit's "Building For Tomorrow" campaign, which incorporates a complex building and facility-utilization plan for the organization that has served people with special needs for 70 years.
Jawonio is thrilled to partner with Westrock, also a staple of the community for half a century, and a company known for its generosity. Over decades, Westrock has donated hot tubs, pool supplies, raffles, and even a pool to a Rockland family after a 10-year-old girl wrote to Bari to say her firefighter father was dying from cancer. Westrock has promised to make weekly service visits to maintain the pool – for life.
Bari, 57, grew up in a Jewish family that routinely made acts of charity a common event. But it wasn't until seven years ago the businessman, who was looking down a long dark tunnel of personal misfortune, discovered that true happiness was most deeply derived from the conscious and intentional act of giving.
I just knew this was going to be my mission.
"I had an epiphany," said Bari, who was taking care of a bedridden family member. Additionally, his father, who co-founded the business was growing frail, and the pool business was off during the post-recession years.
In an uncharacteristic move, Bari attended a Tony Robbins seminar and it set his life on a new course. Robbins is an author, life coach and inspirational speaker.
"I'm not a wealthy man; I'm a working schnook (Yiddish for poor fool)," he said. "I was searching for ways to relieve the sadness. And it hit me. Giving back to people is what I wanted to do. I just knew this was going to be my mission."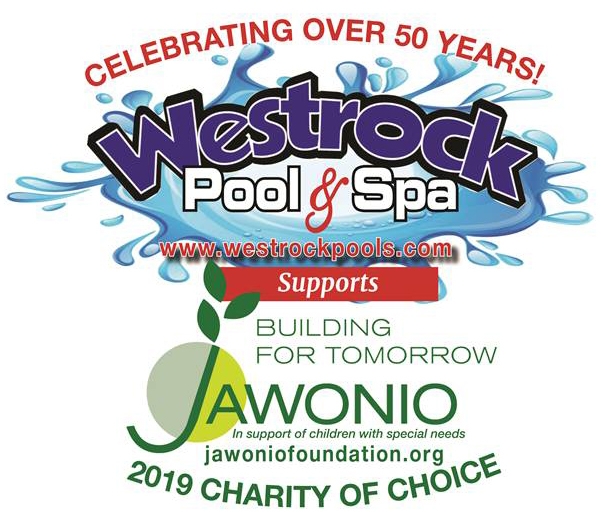 Thus began Westrock's commitment to choose a "charity of choice," annually, which has helped raise funds for Helen Hayes Hospital, Autism Awareness, Make a Wish, United Way and Wounded Warrior Project.
Choosing to support Jawonio came about as a team effort. A Westrock employee has a son who works at Jawonio. "I wanted to get my staff behind this decision," said Bari, adding that emotional buy-in adds a layer of commitment to the fundraising effort.
To date, Westrock has raised $5,000 toward its goal, donating $100 from the sale of each hot tub or above ground swimming pool, and $200 for each in-ground pool.
Bari notes that he sells "fun." Swimming pools bring great pleasure to families, and he feels blessed. "But in the end of the day, I want to be remembered for being a good family man and for helping others," he adds.
Jawonio is the county's seventh largest employer with a $26 million payroll supporting 1,150 people. The nonprofit has placed 6,000 special needs people in competitive jobs, eliminating a burden on subsidized benefits. On average, the agency places between 200 and 250 people in technology, retail, pharma, and other jobs annually. The agency also runs the $4.5 million Jawonio Cleaning Company, founded 22 years ago that contracts with public offices. It also works with BOCES on a green cleaning training program.
To rebuild, Jawonio has secured $18 million through long-term, non-taxable DASNY (Dormitory Authority of the State of NY) bonds at a 5.5 percent interest rate. Half of the $10 million capital campaign has been raised.
The $18 million second phase will include demolition of seven buildings, 379 parking spots and landscaping to give the site a park-like feeling. In July, new year-round weatherized cabins were built, replacing ones from the 1960s.
With the new buildout, Jawonio will improve its care, and serve an additional 3,000 people a year, a 30% increase. It will create jobs and potentially change the landscape of back-office billing and training functions countywide. The organization will embrace green technology and beautify its campus. Jawonio's transformation project will elevate how it delivers care and how it does business in the county.