Commercial Broker Marketing Buildings To Food Industry, Arts & Design
By Tina Traster
After a long $3.5 million renovation, Rockland Community College on Tuesday will open its Hospitality and Culinary Arts Center on the main and lower floors at 70 Main in Nyack. At the same time, the rest of the former 1907, three-story Orange & Rockland Utility Company building, along with an adjoining edifice known as the Athene building, is ready to be leased.
RCC signed the lease for 18,000 square feet in the O&R building in December 2017 and broke ground in January 2018. Houlihan Lawrence Commercial Group, based in Rye Brook, has been named the exclusive leasing broker for approximately 12,000 square feet of space on the upper floors of the RCC building, and 10,000 square feet in the attached Athene building at 69 Lydecker Street.
"We're excited to market this property, and expect to have a phenomenal tenant mix with RCC as the building's anchor."
"This is an iconic building in Nyack that sits at the village's crossroads," said Rick Tannenbaum, commercial broker with Houlihan Lawrence. "We're excited to market this property, and expect to have a phenomenal tenant mix with RCC as the building's anchor."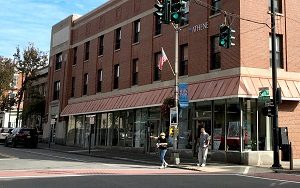 The buildings, previously owned by Athene Annuity & Life Assurance, were sold to TZ Vista LLC in Stony Point in 2016.
The ground floors have had a total gut renovation but many of the original Art Deco/Art Nouveau features, including terrazzo and slate floors, brushed metal doors and railings, vintage glass blocks and mouldings, have been retained and enhanced.
The RCC building is poised to attract a raft of tenants that support the school and the food industry. "Ideally, the center would attract hospitality and culinary companies, but it is also suitable for galleries, furniture and textile designers, and showrooms," said Tannenbaum.
Nyack has always been an arts-driven community, with attractions like the Edward Hopper House, antique sellers, a music scene and the nearby Carson McCullers house. The village's food scene is also flexing its muscle with the Simard & Company cheese shop, Joe & Joe Nyack, and the soon-to-be-opened Up Lounge and Restaurant.
The center's interim director David Kimmel, along with many in the village, expect the RCC to be a transformational tenant. The RCC center will be an asset to Nyack, the county and the region. Training students in Nyack will benefit area restaurants, hotels, agro-tourism, and hospitality employers.
Kimmel says he's designed food and beverage facilities all around the world but there's nothing close to this in the lower Hudson Valley – with the exception of the CIA (Culinary Institute of America), his alma mater. The kitchen is outfitted with ranges, convection ovens, char-broilers, griddles, pizza deck ovens and combi-ovens.
Suffern RCC culinary students, who were originally supposed to be in the building last September, are moving from an outdated facility into the new "campus" which has a state-of-the-art teaching kitchen, classrooms, student lounges, and an amphitheater. The most visible features will be a farm-to-table market and a 45-person seating space with opportunities for pop-up restaurants, due to open in the spring.
The RCC center, on the corner of Main and Broadway, will not only benefit Rockland Community College's culinary students, it will open up opportunity for artisanal food sellers, corporate entities, and area employers in the food and hospitality business.
The market will focus on foods that put a "focus on New York." For example, hard apple cider, craft beers, honey, maple syrup – anything that showcases the best of what New York growers make. Kimmel says the market is inviting Nyack's farm market vendors to sell their wares at the culinary center. Most likely, the center will either buy the goods at wholesale and resell them, or take a percentage of sales, but vendors will not have to pay rent.
When the market opens, students (there are about 120) will be cooking in the teaching kitchen, and selling what they create at the market from 7 am to 8 pm. The seating area next to the market will be used as a place to eat, a pop-up restaurant, and a rental space for events. The market and seating area will have glass windows overlooking North Broadway.
Businesses fishing for team-building concepts may want to consider the center's 10-station teaching kitchen, fully equipped with ranges, grills, prep tables, sinks, food preps, blenders and food processors. There are large monitors in the cooking stations to screen demonstrations. "A business can rent the space for a team cooking exercise during the evening or on weekends," said Kimmel. "Cooking is a great way to build team spirit." The school will even supply a teaching chef and assistants to add a professional touch to the event."
The lower level amphitheater will be another draw for commercial use. It has a 50-seat capacity as a dinner-theater configuration, or 100 seats for lectures. The theater has a demo kitchen, as well as a screen for film or Powerpoint presentations. Once the theater is up and running, the school will be hiring a program director to handle bookings.
The center will also be a draw for cooking classes, summer camps, musical performances, fundraisers and tourism. There's a lot of work to be done to use this learning center as a multi-faceted business and community asset but anyone who spends time with Kimmel has no doubt that his energy will fire up an incredible buffet of offerings.