PACE Financing Program Helps Property Owners Undertake Green Upgrades
By Tina Traster
Twenty New York counties, including nearly all in the Hudson Valley, have passed legislation enabling commercial property owners to finance clean-energy projects. Owners repay the debt through their property taxes.
Rockland County is not on the list, yet. County officials, who learned about the program a year ago, say they are going to take a look at it. Though it is unclear as to which entity will take the lead on this: the County Executive's office or the legislature. (UPDATE: On Dec. 14th, Legislator Lon Hofstein told RCBJ he will request that the PACE program be added as an agenda item on an upcoming committee workshop.)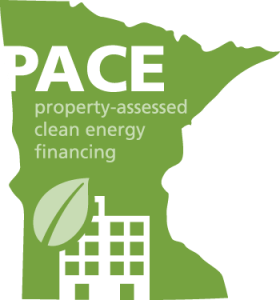 The Energize NY Benefit Financing Program, also known as PACE (Property Assessed Clean Energy), has been used to upgrade affordable senior housing, a hotel, a church and a community center, to name a few. Banks typically offer up to seven-year loans based on property owners' personal credit scores. In contrast, loans from PACE, which stretch up to 20 years and are financed through bonds, look at the applicant's request to upgrade efficiency, reduce emissions, create jobs and benefit the community's building stock. Interest rates today are around 6% to 6.5%. The program is especially attractive to property owners who want or need to update older, historic buildings.
"It's the newest public benefit."
"We are providing a public benefit," said Mark Thielking, Energize NY's co-executive director. "Energy efficiency, if you think about it, is like the things we take for granted: sewer or water or fire protection. It's the newest public benefit."
For property owners to participate in PACE, counties and municipalities must pass enabling legislation because municipalities collect repayments on loans through property tax bills. To date, 20 projects have been completed, but enabling legislation has been passed in 54 municipalities Orange, Dutchess, Ulster and Sullivan and Westchester.
Drum Hill Senior Living in Peekskill, housed in a former school built in 1901, desperately needed to upgrade its heating system. In 2015, Drum Hill took a 20-year, $429,000 Energize NY PACE loan at a 3.14% interest rate. The loan covered replacing the boiler with high efficiency condensing units and efficiency chillers, new pumping technology, and LED lighting.
Annual financing for the project is $29,000, but there is a 14% savings on electric and a 10% savings on natural gas.
Had Drum Hill gone to a commercial bank and taken a seven-year loan, annual financing would have been closer to $69,000, which would have been an unaffordable option. "PACE financing enabled us to address our energy issues with no upfront costs and without having to tap our credit lines," said Jeanie Baney, Drum Hill's finance director.
The amortized loan will cost Drum Hill $155,000 in interest over 20 years, versus $55,000 if they'd taken a seven-year loan from a commercial bank. Borrowers are indeed paying more for long-term loans. And the responsibility for the loan carries forward when a property owner sells the building.
"PACE financing looks at the property owners' ability to pay the tax bill, not exclusively at their credit worthiness," said Thielking.
"The program sounds interesting, but we have to do our due diligence," said Rockland County's legislative minority leader Lon Hofstein. "I've reached out to Stephen Powers (the county's director of public policy and intergovernmental relations). I'd like him to speak with 'legal' and 'finance' and once I hear back, I can have the legislative staff look into it."
Hofstein, along with County Executive Ed Day, attended a PACE presentation a year ago.
Day says he thinks the PACE program is a good idea but the legislature has to introduce and pass a law. "I have no control over it," he said. "If there's interest, and they want us to assist in vetting it, I'm happy to work with them."
Toni Lisanti, owner of Integral Building and Design, an energy consultant, says he's frustrated that the county has dragged its heels for a year. "This kind of funding is a good resource for property owners to have in their tool bag," he said. "If a property buyer is looking to take over an old warehouse or renovate a space, this kind of financing really softens the blow."
Presumably, county officials worry about adding administrative duties attached to the program, or increasing the county's exposure to the risk of tax delinquency. Thielking argues counties already collect, remit and enforce tax payments, and the financing charge is just another line item. That said, if a property owner defaults, the burden to collect, remit and in certain cases remit the payment, is with the county, which can make itself whole through foreclosure.
"We're not talking about making thousands of loans," said Thielking. "We talking about a dozen."