Halal Foods Represent a $1.4 Trillion Market
By Tina Traster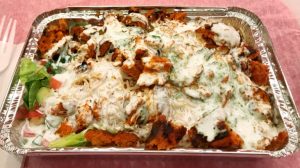 Shah's Halal Food, a meat-over-rice chain, opened a restaurant in mid-November on the fourth floor of the Palisades Center in the ThEATery. This is the 12th outlet for the company, which started as a food truck in Queens and morphed into a growing stable of brick-and-mortar stores in Queens and Long Island.
Rockland was not on Shah Halal's radar until Palisades Mall leasing reached out and invited Shah Halal Food's CEO Khalid Mashriqi to take space. "I wasn't familiar with Rockland," said Mashriqi. "I think I'd been to the Palisades mall once."
Two weeks after Shah Halal's debut at the mall, Mashriqi is feeling optimistic about his first foray for Shah's Halal beyond New York City and Long Island. Though he's paying 50% more for his 1,200-square-foot space at the Palisades, compared to three mall spaces in Long Island, and nearly 75% more than his strip-mall locations, the food purveyor is excited about establishing a toehold in the region. He's scouting for potential locations in both Westchester and New Jersey.
"You have McDonalds, Arby's, Subway, but nothing for halal," said Mashriqi. "I want to to be the McDonalds of halal."
The menu at Shah's Halal is a build-your-own combo that begins with lamb, chicken, falafel, fish or kofta kebab. Customers then add rice, salad, or gyro-style pita, and top it with sauces including creamy white, spicy red, or green. In what is proving to be a popular trend in fast food, each meal is prepared in front of guests to build their custom meal, and small trays of baklava are offered.
The company has its own warehouse and USDA-approved supplying facility in Queens that provides Shah's offerings to food carts and restaurants.
The family chain is owned by CEO Khalid Mashriqi. Shah's Halal began in 2005 as a single cart on a Queen's street corner.
The global halal food market reached a value of $1.4 trillion in 2017.
According to a recently published report by IMARC Group, titled "Halal Food Market: Global Industry Trends, Share, Size, Growth, Opportunity and Forecast 2018-2023", the global halal food market reached a value of $1.4 trillion in 2017.
"Our food caters to all walks of life," said Mashriqi, adding that only 10% of his customer base is Muslim. "Halal has become more of a cultural thing."
The desire for healthy foods is driving the growth of the global halal food market. This has resulted in an increase in the consumption and acceptance of halal food among non-Islamic communities. Halal foods refer to food products which meet the dietary guidelines provided by the Sharia law. They are free from prohibited ingredients such as alcohol, pork and its by-products, and are made and stored in utensils which have been cleansed according to the prescribed guidelines. The Islamic form of slaughtering animals or poultry, dhabiha, involves killing through a cut to the jugular vein, carotid artery and windpipe.
The halal food trend, however, is increasing due to a surge in the Muslim population worldwide. The report forecasts that market value is projected to reach $2.6 trillion by 2023. Growth is expected to compound at 11% annually over the next four years.
In addition to fast food restaurants, the halal market has witnessed a universal shift in the demand and supply chains of halal food products. They are increasingly found on the shelves in Western-style grocery stores including supermarkets and hypermarket chains.