Business and Residential Communities Benefit From Cooperation on Zoning Change
By Tina Traster
Municipalities generally frown upon a zoning change for a single land user. But a zone change to allow the HNA Palisades Premier Conference Center to operate legally as a hotel for the general public versus its conference guests only may prove to be a rare example of when "spot zoning" can be an advantageous strategy for Rockland's business community and local residents alike.
Everyone agrees the 450,000-square-foot HNA center, located on a secluded tract of 106 bucolic acres on Route 9W, is a Hudson Valley gem with nothing to rival it. The beautiful facility is a labyrinth of conference spaces equipped with high-speed internet and state-of-the-art technology. Frank Lloyd Wright would give it a thumbs up.
In 2017, HNA won approval from Orangetown's Planning Board to build an additional five-story hotel with 100 rooms on the property. But there was a snag: HNA didn't have the right to rent those rooms to the general public because the center is located in a zone (Laboratory Office, or LO) that does not permit hotels.
"It's a key parcel," said Town Supervisor Chris Day. "It's strategically located at the gateway of New Jersey and it is thriving because the hotel market is strong.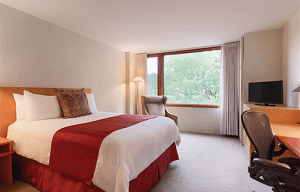 So how did they operate a hotel in their existing facility after purchasing the property from IBM two years ago for nearly $60 million? Turn back to the early 2000s when the town granted IBM a special permit to use the 206-hotel rooms for guests attending the conference center. Both Dolce and Crescent Hotels and Resorts, the companies that managed hotel operations for IBM and HNA, both stretched the rules and rented rooms to guests who were not attending events.
Rather than seeking a use variance for its hotel addition and its current hotel facility — an onerous process for any applicant — HNA worked closely with Orangetown to come up with a solution: the 106-acre tract would be rezoned "Office Park (OP)" – a zone that allows hotels — but HNA would agree to a restrictive covenant that capped building heights at 50 feet and any free-standing outside retail vendor would be prohibited. The new zoning and the restrictive covenant runs with the land in perpetuity.
"It's a key parcel," said Town Supervisor Chris Day. "It's strategically located at the gateway of New Jersey and it is thriving because the hotel market is strong.
He added, "Use variances are not good practice – a zoning change made sense."
Last month, Orangetown voted 3 to 1 to approve the zoning change at a public hearing. The holdout council member, Tom Diviny, was troubled over the prospect that HNA could continue to expand up to 900-plus rooms without additional zoning approval. Based on the current FAR, or total allowable square footage, HNA could build up to 1.85 million square feet of commercial space on the property. The zone allows for 40% coverage. With HNA's current footprint of 450,000 square feet that leave 1.4 million square feet of buildable square footage, subject to other bulk regulations including setbacks, height restrictions, parking requirements, etc.
Lino J. Sciarretta, the attorney representing HNA at the public hearing, told the council the hotel does not intend to scale up to anything of that magnitude; that there was no market in Palisades to support a facility that large. However, there is no way to know what a future landowner will do. When Diviny continued to voice concern, Sciarretta pointed out the land is currently zoned for an office park, a laboratory, and other land uses that would be less desirable and more impactful than a hotel.
Public officials also pointed out that the center could be sold to a school or a nonprofit. HNA pays about $1.6 million annually in property taxes, and a 100-room addition will create additional ratables.
Feedback from the public on the application was modest. Most residents supported it. Some abutting neighbors asked for assurances their properties would not be affected by noise or lighting.
HNA is expected to begin renting its rooms within the next few weeks. Crescent Hotels & Resorts already manages its hotel and catering operations. HNA Group Co., Ltd, which owns HNA center, is a global conglomerate in the transportation, hotel, and financial sectors. It is the parent company of Hainan Airlines.