RCBJ-Audible (Listen For Free)
---
24-Unit Residential Building Planned For Union Road In Spring Valley Despite County Objections
All Fresh Farms, Inc., a Brooklyn-based property owner,  has sold a vacant parcel at 17 Union Road in Spring Valley. The non-residential vacant parcel is about 1.05 acres. The selling price was $6.8 million. Financing was provided by Orange Bank & Trust for $4,080,000.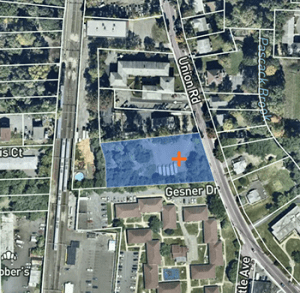 Plans for the site include a 24-unit multi-family dwelling in the GB (General Business) District. The area around the site, which sits just north of Myrtle Avenue, has seen extensive redevelopment in recent years. To build residences in the GB District requires a Special Permit. Also, numerous variances were required to enable the project to get approved, including lot width, front yard, side yard, rear yard, FAR (floor area ratio), and units per acre.
The building plan includes a three-story structure of about 42,000 square feet, with 52 parking spaces.
The County Planning Department reviewed the application four times in the last four years and each time disapproved, saying the site was being over-developed. Specifically, the County review stated, "Permitting development that does not comply with the applicable bulk standards can set an undesirable land use precedent and result in the overutilization of individual sites."
The buyer, Union Apartments, LLC of Suffern, NY is an affiliate of Berel Karniol's investment companies. Karniol owns numerous residential buildings and investment properties around Rockland County.
Karniol recently purchase three parcels at 166, 168 and 184 Route 59 in Airmont. Those parcels, totaling 14.6 acres of commercial land were purchased for $9 million.
---
Novartis Developer Buys Additional Acreage From New York State Thruway Authority
The New York State Thruway Authority sold its interest in property adjacent to 25 Old Mill Road in Suffern to IV2 Rockland Logistics Center LLC, the Manhattan-based developer of the former Novartis Pharmaceutical complex. The selling price was $2,025,000.
The New York State Thruway Authority acquired the property back in the 1950s for "purposes connected with the Thruway system." Last June, the Authority declared the property as "not necessary for the Authority's purposes" and authorized its sale. A restriction in the deed prohibits access to the property along its northern boundary that abuts the thruway and any buffer zones around it owned by the Authority.
The parcel is 4.873 acres.
The properties at 25 Old Mill Road in Suffern and 19 Hemion Road in Montebello last year sold to IV2 Rockland Logistics Center LLC for $138 million.
IV2 Rockland Logistics Center LLC, a Delaware LLC and an arm of Brookfield Properties, plans to demolish everything on site and build a campus with state-of-the-art warehousing/distribution facilities. Novartis had more than one-half million square feet of offices, warehouses with 90-foot ceiling height and 11,500 pallet positions, pharmaceutical production facilities, its own energy center and 24,000 square-foot substation.
IV2 Rockland plans to construct of three Class "A" industrial warehouse/wholesale distribution facilities totaling 1,221,800 square feet with loading bays, trailer storage spaces and parking.  Building 1 will consist of 963,100 square feet, building 2 will have 170,500 square feet, and building 3 is planned for 88,200 square feet.
---
Shell Service Stations In Nyack & New City Trade For $4 Million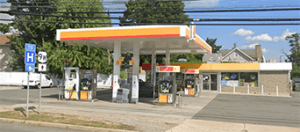 The Shell Services Station at 45 North Highland Avneue (Route 9W) in Nyack sold for $2.5 million. The seller was Nyack Retail Corporation. The buyer is Muhammad Aminuddin of  New City-based Mali Properties LLC.
In a related transaction, Clarkstown Retail  Corporation sold the Shell Station at 320 South Little Tor Road in New City to Muhammad Aminuddin's Nasir Properties LLC for $1,5 million.
Financing for the property was provided by the Seller.
---