RCBJ-Audible (Listen For Free)
---
Panera Bread on Airmont Road Sells For $4.65 Million To New Jersey Investors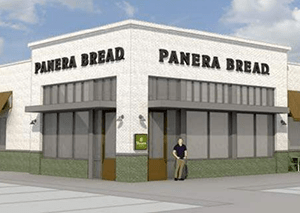 The Panera Bread at 15 North Airmont Road in Airmont was sold by Panera to two investors: Shulammite, LLC and L.F.M.H, LLC both of Fort Lee, NJ. The 1.59 acre property sold for $4.65 million.
As part of the purchase, buyers took an assignment of the 15-year Panera absolute NNN ground lease with four 5-year extensions. Absolute NNN ground leases typically provide for the tenant operator to pay all costs related to the property, including taxes, maintenance on the 4,430 square foot building, and insurance.
According to the offering memorandum, the lease terms include 8 percent increases every five years, with the current monthly rent starting at $18,441.
To develop the Panera drive-through site, a restrictive covenant dating back to 1983 that precluded a restaurant from operating separately from a hotel at the location had to be removed. When the Village of Airmont updated its zoning code to allow restaurants in the zone, the covenant became unnecessary and was removed by the Village in 2018. Several variances were granted to accommodate the Panera construction, including lot size, lot width, and side setback and side yard area requirements.
The site formerly housed a Friendly's Restaurant and was part of a Howard Johnson's motel subdivision.
---
Groundbreaking On Old Nyack Turnpike For Condominium Units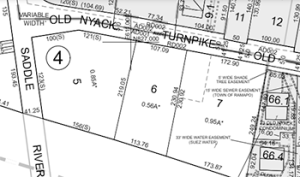 Existing buildings are being torn down and trees cleared on a four-lot subdivision at 15-17-19-21 Old Nyack Turnpike in Monsey in what seems like the never-ending redevelopment of the corridor just east of Saddle River Road abutting the New York State Thruway.
Mortgage financing and a building construction loan totaling $5.06 million dollars was provided by Northeast Community Bank of White Plains, NY to Old Nyack Estates, LLC, located at 46 College Road in Monsey.
The loan agreement calls for construction of eight condominium units on the .95 acre site. The zoning for the site is R-15A, a medium density residential district that allows for single and two-family detached residences. Multiple variances were granted in 2020 for maximum development coverage, lot area, lot width, front setback, front yard, rear setback, street frontage, and floor area ratio.
The Rockland County Planning Department in 2021 described the proposed project as "gross overutilization of the site."
---
Parcels at 270-290 Route 9W in Congers Sell to Storage Lot Realty, LLC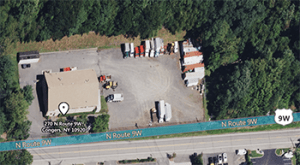 Three parcels along northbound Route 9W in Congers, totaling 2.81 acres, sold for $3.5 million dollars. The buyer, Storage Lot Realty, LLC of Nanuet, NY is affiliated with Schultz Ford of 80 Route 304. The commercial building and vacant land was owned by Ruscon Truck Service and the Sandberg family.
The likely use of the property is for vehicle storage.
The acquisition was financed with a mortgage in the amount of $2.8 million dollars in favor of Connect One Bank of Englewood Cliffs, NJ. Craig Schulz is listed as the member and director of Storage Lot Realty, LLC.
The property is zoned COS which allows for a bevy of office, commercial, light industrial, retail, dining and other uses as of right.
---